These are the basic Sikh Pugaree types. Turban theory states that the main pugaree types are starting points, and anyone can invent their own turban styles.
In May 2009,
The Times of India
reported that British researchers were trying to make a "bulletproof turban" that would allow the Sikhs in the British police to serve in firearms units.
Turban style is totally depend upon individual thinking of how he want his turban to be. He may wanted a quick, clean or complex turban. Different turban styles comes also depend upon the ease of the wearer.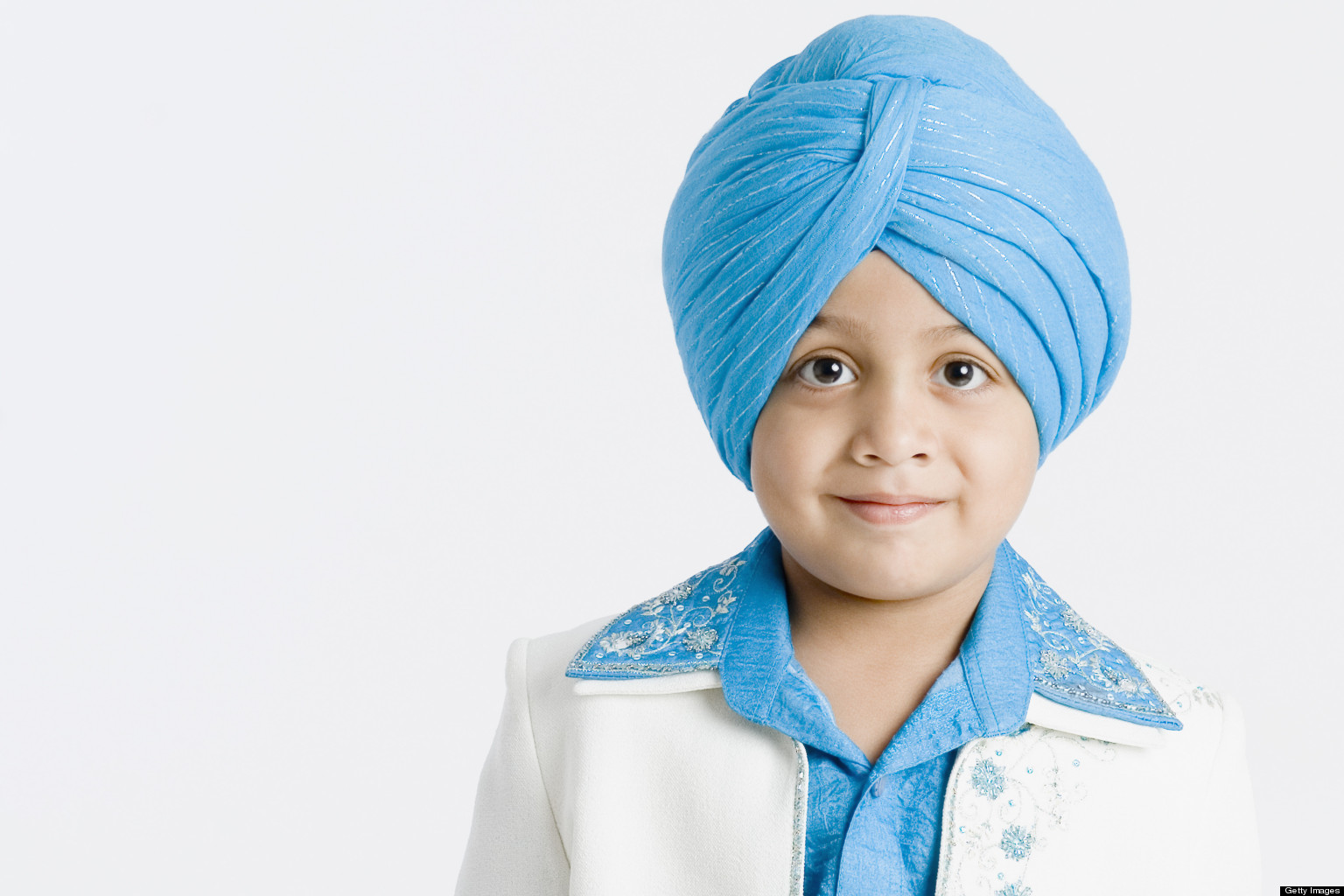 Style and color may reflect association with particular group of Sikhs, religious conviction, or
fashion. There are many different styles and colors of turban. A longer turban is usually worn in a formal setting such as a business occasion, a wedding, a religious program, or celebration. Popular colors are blue, black, white, and orange. Red is often worn for weddings. A woman's head scarf, or veil, is traditionally coordinated with whatever she happens to be wearing. It may be solid color or have a variety of contrasting colors. Many have decorative embroidery.
Turbans also come in variety of fabrics from light weight to heavy such as:
Mal Mal - A very lightweight fine fabric.
Voile - A lightweight weave.
Rubia - A medium weight dense weave.
Sikh wearing a domalla style turban.
Turban styles include but are not limited to:
Domalla - Double length turban of 10 or more yards or meters. Its not a sharp point style but rather round style Turban. How may choose to wear a small length or to any length you like. It all depends upon the strength of you neck. Its easy to wear and you can use ornaments to decorate it too.
warrior style Domalla
Domalla-warrior style - Another version of Domalla include a wire inside the turban usually used by warrior meant for going into battle. This version show the "Chand Tora" i.e. crescent moon with sword ornament with the metal wire around the turban. You can also use Khanda instead of

Chand

tora. The wire is use is totally closeable But likely used only when going into war not in festivals or common day.
Pagri with clean undesigned end at front
Pagri - Double width turban of five to six yards or meters. Also called General men turban or Pag,

this turban is longer and goes about 7 times around the head. The Pointy front is some what smaller than that of Dastar . Moreover Its usually wore in 5 to 10 minutes.

The last end (larh) of pagri is usually donot folded and not given any specific shape than square or rectangle at front top.

Dastar with 'V' shape at front top

Dastar - A single turban of four to six yards or meters. The difference between Pagri and Dastar is that the Dastar is much large than Pagri and more pointy (Nok) at front. If you use the "Notai" technique and have a big joora (hair knot), do not make it right in front at your forehead. You will end up tying the turban on the joora, and it will make your turban look very high and big.According to modern punjabi style the last (larh) of turban is given a "V" shape by using the turban pin.Sikhs also use a specially designed Turban Needle (Punjabi:Salai,ਸਲਾਈ OR Baaj,ਬਾਜ It's to tuck their hair inside from Turban and Patka and also to maintain turban cleanliness
sikh man with a small turban (Keski)
Keski - A short turban of two or more yards or meters. Its like domalla But short.

This is a quick casual turban that you might tie if you donot want a large size turban or a quick alternate turban option. It is generally worn to savetime, or as an under turban to one of the above "full" turban.
A Sikh boy wearing Patka



Patka - A square of half to one yard or meter, tied over the joora (top knot) and head.This is a common sikh turban among young boys. It is normally used as more of a casual Pugree, or sometimes for sports. Contrary to popular belief Patkas are actually types of turbans. These are easy to wear and are strong enough to held all hair together.
sikh man wearing orange turban with black Fifty
Fifty- A half yard or meter worn beneath turban usually in contrasting or decorative color.
A sikh child wearing rumal
Scarf Styles include but are not limited to:
Chunni - A sheer lightweight veil of up to two and half yards, or meters, usually one solid color and may or may not have embroidery.
Dupatta - A double wide decorative veil of up to two and half yards, or meters, often embroidered on fabric of contrasting colors.
Rumal - Any square or triangular cloth worn as a head cover.